Remember the last time you had to make an important call? 
When you had that shaky feeling in your chest…the one you get right after you hear the ring on the other end?
Or maybe you're one of those gifted people who can screw up their courage and take it easy.
While we're slowly ditching what used to be the main function of telephones—voice calling—for things like texting and Facebook, there are still moments when we need to pick up the phone. 
This in mind, language learners will still benefit from memorizing a few German phone call phrases in today's SMS-based world. While in Germany, you'll have to order food from a new favorite restaurant, call the local barbershop for a reservation, or phone your boss with an urgent question. 
Things that are socially challenging in your own language become even more intense when a foreign language like German is involved! 
To make your life easier, GermanPod101 has put together a list of more than 30 phrases for phone calls in German. We've also included conversation examples to give you a better idea of how to use them and to help you become an effective communicator over the phone. 
Let's dig in…
Table of Contents
1. Picking up the Phone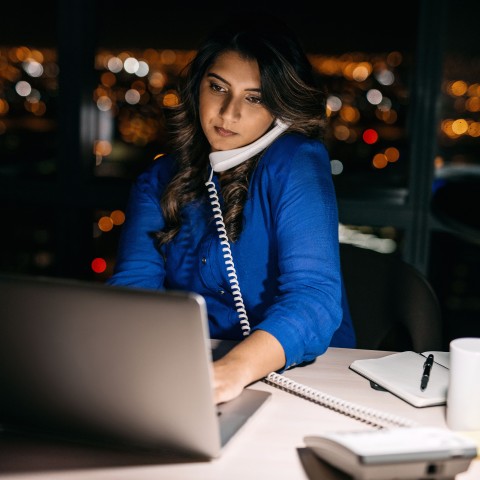 To get started, let's look at a few different ways you can answer a phone call in German. Remember that the greeting you use will depend on whether the call is formal or casual in nature. 
If you're talking to a friend, use this:
Hello.
Hallo.
And if you're talking to an unknown or formal caller, then use one of the next expressions:
[Last name] at the telephone.
[Last Name] am Apparat.
[Last name].
Good morning!
Guten Morgen!
Good day!
Guten Tag!
Good evening!
Guten Abend!
Such a phone call might proceed as follows:
A: Schmidt.
B: Guten Tag Frau Schmidt.
A: "Schmidt."
B: "Good day Mrs. Schmidt."
2. Saying Who You Are
The next thing you'll want to do is introduce yourself. This is rather formal in German, especially when talking to a stranger or someone with whom you have a formal relationship. Here's the most ideal expression to use: 
This is [name].
Hier spricht [Name].
Literally, the phrase above translates to: "Here speaks [name]."
If you're receiving a call from a customer or someone at work, use the following expression:
This is [name], from [company].
Hier Spricht [Name] von [Firma].
3. Stating the Reason for Your Call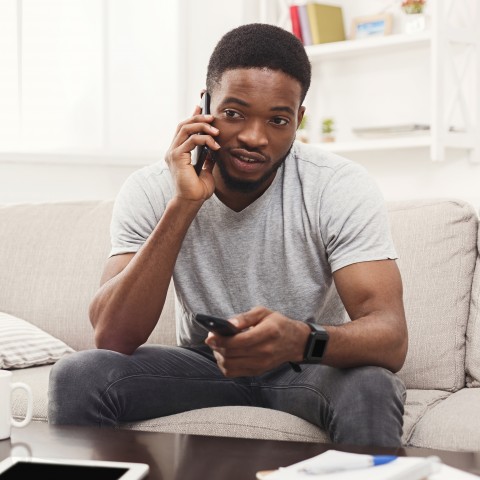 This is the most crucial part of your phone call. Not knowing what to say here will make your call pretty much pointless. Before you get on the phone or expect a call, make sure you rehearse this part to make it easier for whoever is on the other end.
If you're calling to make a certain request, use the following phone call phrase:
I'm calling to ask… / confirm… / make a reservation.
Ich rufe an, um zu fragen … / zu bestätigen … / eine Reservierung vorzunehmen.
Need help with something in particular? Use this expression:
I'd like to speak to someone about… 
Ich würde gerne mit jemandem über… sprechen.
If you missed someone's call, you can call back and say:
I'm calling back, because someone tried to reach me from this number.
Ich rufe zurück, da jemand versucht hat, mich von dieser Nummer zu erreichen.
4. Asking to Speak to Someone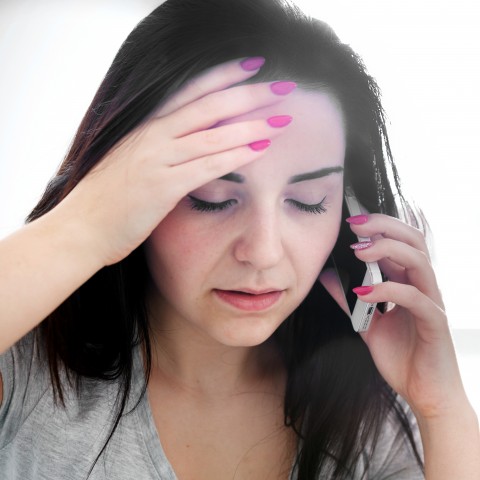 When asking to speak to someone—such as a friend via their home phone number or an individual in a specific position via their company's fixed telephone number—the following expressions will come in handy.
May I speak to…? 
Kann ich mit… sprechen?
Is [name] there? 
Ist [Name] da?
5. Asking Someone to Wait
Waiting in line can get very frustrating, especially when it's a matter of urgency. Therefore, it's crucial for you to master the necessary stay-on-the-line expressions in German:
Let me check quickly. 
Lassen Sie mich kurz nachschauen.
I'll put you on hold for a second. 
Ich werde Sie für eine Sekunde in die Warteschleife legen.
I'll transfer you to the right office. Stay on the line please. 
Ich werde Sie mit dem richtigen Büro verbinden. Bleiben Sie bitte in der Leitung.
6. Leaving a Message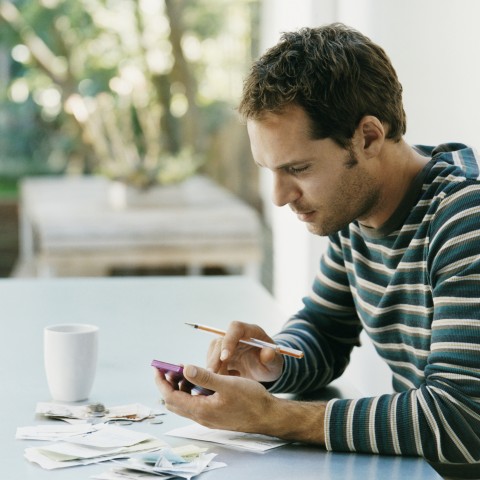 Voicemail among friends and family is slowly becoming obsolete. But in business, it's still relevant and very important for urgent calls.
Here are three expressions you can use to leave a message next time you have to make a business phone call in German: 
Please let him know… 
Bitte sagen Sie ihm…
Can I leave a message? 
Kann ich eine Nachricht hinterlassen?
Can you tell him to call me back at [phone number]? 
Können Sie ihm sagen, er soll mich unter [Telefonnummer] zurückrufen?
7. Asking for Clarification
Asking for clarification is especially relevant when you're at that beginner stage, or if you often face network issues that might interrupt your call.
Sorry, could you say that again? 
Entschuldigung, können Sie das noch einmal sagen?
I'm sorry, but I'm having a hard time hearing you. I think there's a bad connection.
Es tut mir leid, aber ich kann Sie kaum hören. Ich glaube die Verbindung ist schlecht.
Could you spell your name for me, please? 
Könnten Sie bitte Ihren Namen buchstabieren?
Just to double check… 
Nur um sicher zu gehen…
Lit. "Just to make sure…"
You can also ask your caller if they speak English, just in case:
Do you speak English?
Sprechen Sie Englisch?
8. Ending the Phone Call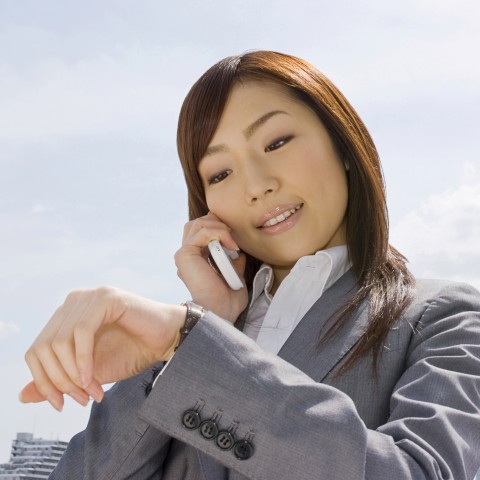 Whether your call went well or not, it's always worth leaving a nice impression at the end.
Anything else I can help with? 
Kann ich sonst noch helfen?
You've been very helpful. Thank you. 
Sie waren sehr hilfreich. Vielen Dank.
See you on (day) at (time). 
Wir sehen uns am (Tag) um (Zeit).
Have a great day. 
Ich wünsche ihnen einen wunderschönen Tag.
9. Sample Phone Conversations
To give you a better idea of how a phone conversation in German might go, we've included two sample dialogues for you: one informal and one formal. 
Informal phone conversation
Two friends are setting up a time to meet for lunch on a weekend. Here is a short conversation they've had on the phone.
Paul: Hallo.
Marie: Hallo.
Paul: Hello.
Marie: Hello.
Paul: Wie geht's dir?
Marie: Gut. Ich lerne für eine Prüfung. Und dir?
Paul: How are you doing?
Marie: Good. I'm studying for an exam. How about you?
Paul: Mir geht es gut, danke. Ich lese ein Buch. 
Marie: Schön.
Paul: I'm good, thanks. I'm reading a book.
Marie: Nice.
Paul: Bist du am Wochenende in der Stadt?
Marie: Ja, hast du irgendwelche Pläne?
Paul: Are you in town on the weekend?
Marie: Yes, you have any plans?
Paul: Wollen wir zusammen Lunch essen?
Marie: Ja, warum nicht! Wann genau?
Paul: Should we have lunch together?
Marie: Yeah, why not! When exactly?
Paul: Samstag Nachmittags?
Marie: Können wir uns gegen 14:00 Uhr treffen?
Paul: In the afternoon.
Marie: Could we meet around two p.m.?
Paul: 15 Uhr wäre besser.
Marie: Hört sich gut an.
Paul: I prefer three p.m.
Marie: Sounds good.
Paul: Bis dann!
Marie: Bis dann, tschüss!
Paul: See you!
Marie: See you, bye!
Formal phone conversation
After they set the time and place, one of the friends calls the restaurant to reserve a table. Here is an example of a short phone conversation for this situation. 
Paul: Guten Tag!
Rezeptionistin: Hamburgs Hamburger – Guten Tag!
Paul: Good day!
Receptionist: Hamburg Hamburgers – Good day!
Paul: Ich möchte einen Tisch für zwei Personen reservieren.
Rezeptionistin: Für wann möchten Sie reservieren?
Paul: I would like to reserve a table for two.
Receptionist: For when would you like to reserve?
Paul: Ich würde gerne für Samstag reservieren.
Rezeptionistin: Gerne, wie viel Uhr?
Paul: I'd like to reserve a table for Saturday.
Receptionist: Surely, what time?
Paul: 15 Uhr, bitte.
Rezeptionistin: Samstag, 15 Uhr, zwei Person. Auf welchen Namen?
Paul: Three in the afternoon, please.
Receptionist: Saturday, three p.m., two people. And what's your name please?
Paul: Paul Schmidt.
Rezeptionistin: Perfekt, Herr Schmidt. Bis Samstag!
Paul: Paul Schmidt.
Receptionist: Perfect, Mr. Schmidt. See you on Saturday!
10. Conclusion
And there you go.
You're now all set to start taking and making phone calls in German like a boss. How confident are you? Are there any phrases or situations you'd still like to learn before your next all-German call?
As long as you let your interlocutor know that you're not a native speaker, a few basic sentences to get the point across will do.
You'll have people speak to you in slower-than-usual German, and that'll make it easier for you to understand.
You should also rehearse what you have to say for different conversations, as this will help you get more and more comfortable with phone convos. 
Not convinced you can pull that off easily?
Then you might want to grasp a few more German words before making that phone call.
For that, I recommend checking out GermanPod101.
Here, you can find pretty much all the lessons you might need to go from beginner to advanced.
In fact, our system is equipped with some of the most effective language learning techniques. This includes features like pronunciation comparison, slowed-down German audio, online flashcards, slideshows, and more. 
All of these features and more are incorporated within a proven learning system. This ensures that you learn the language in the shortest amount of time possible. 
You also get access to dedicated tutors who can answer your questions and help explain any German rules or words you might be struggling with.
Take advantage of GermanPod101's free trial and check it all out for yourself. No credit card required.