Germany is a big country with tons of diversity and an expansive territory.
You can take a swim in the North Sea at Germany's island of Sylt, go skiing in the Bavarian Alps, or even check out Berlin's East Side Gallery to see some murals from the post-WWII era.
All of this and more makes Germany an appealing country to visit as a tourist, especially thanks to the country's abundance and variety of nature. 
One of the most appealing elements of nature—and life in general—is animals. Picking up a few German animal names before your visit is sure to enhance your experience, especially if you plan to spend some time in the great outdoors. 
Even if you never set foot in Germany, learning these basic words will take your German-language skills up a notch and maybe even help you see the world through a fresh set of eyes. After all, many animals are rather similar to us: they have emotions, they survive, and they have many of the same essential needs as we do. 
To help you build your animal vocabulary and limit how often you resort to English, we've compiled this masterlist of words for animals in German. 
Without further ado, let's get right into it…
Table of Contents
1. At Home (Pets)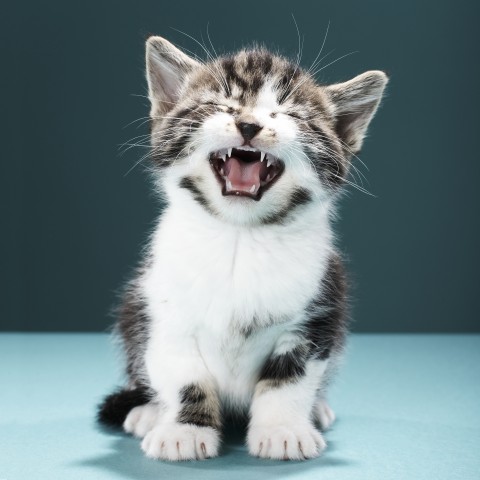 Cats are the #1 pet of choice in Germany. In fact, a mere 22 percent of households in Germany are home to more than 14 million cats in total. (Dogs are a close second!)
Not only is Germany pet-friendly, but the treatment they give to their pets is simply outstanding. Yet, if you're a foreigner (especially from outside the European Union) planning to move to Germany with your pet, you'll want to make sure you become familiar with the legal procedures.
All pets are tax-exempt in Germany, except for non-rescue dogs. For these, you'll have to pay a Hundesteuer every year.
Here's a list of nine at-home pet names in German:
| | |
| --- | --- |
| Katze | "Cat" |
| Hund | "Dog" |
| Hamster | "Hamster" |
| Kaninchen | "Rabbit" |
| Maus | "Mouse" |
| Ratte | "Rat" |
| Meerschweinchen | "Guinea pig" |
| Goldfisch | "Goldfish" |
| Papagei | "Parrot" |
2. On the Farm (Farm Animals)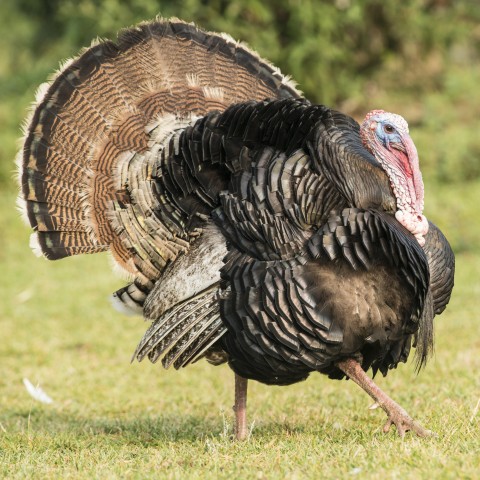 Germany is one of the most developed countries in terms of agriculture, and 80% of the country's total land is used for forestry and agricultural activities.
Germany is known for its fast adoption of technology in agriculture, as it's replacing more and more farm workers with machinery over time. 
With the great significance agriculture carries in Germany, you never know when the need may arise for some animal vocabulary. Below, you'll find the names of a few farm animals in German to get you started.
| | |
| --- | --- |
| Kuh | "Cow" |
| Schwein | "Pig" |
| Schaf | "Sheep" |
| Ziege | "Goat" |
| Pferd | "Horse" |
| Huhn | "Chicken" |
| Henne | "Hen" |
| Hahn | "Rooster" |
| Gans | "Goose" |
| Ente | "Duck" |
| Truthahn | "Turkey" |
3. In the Wild / Forest / Safari (Land Animals)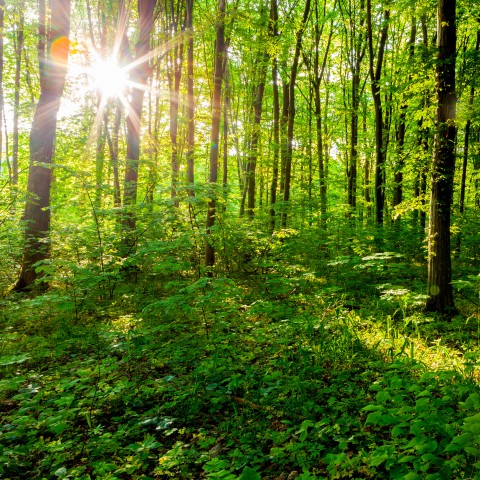 Germany hosts several beautiful national parks, most notably the Bavarian Forest National Park and the Eifel National Park. Considering that 2% of Germany's territory is covered by wilderness, there are more than enough options to satisfy adventurers and nature lovers.
Your adventures are bound to be more interesting when you could stumble upon wolves, foxes, boars, and a number of other wild animals on your trek! 
→ Intrigued by wildlife? Then head over to our video lesson on forest animal vocabulary to learn more useful words for wild animals in German!
| | |
| --- | --- |
| Bär | "Bear" |
| Wolf | "Wolf" |
| Hirsch | "Deer" |
| Hase | "Hare" |
| Fuchs | "Fox" |
| Igel | "Hedgehog" |
| Eichhörnchen | "Squirrel" |
| Eber | "Boar" |
| Murmeltier | "Groundhog" |
| Löwe | "Lion" |
| Tiger | "Tiger" |
| Jaguar | "Jaguar" |
| Panther | "Panther" |
| Elefant | "Elephant" |
| Giraffe | "Giraffe" |
| Affe | "Monkey" |
| Gorilla | "Gorilla" |
| Känguru | "Kangaroo" |
| Koala | "Koala" |
| Panda | "Panda" |
| Faultier | "Sloth" |
| Robbe | "Seal" |
| Pinguin | "Penguin" |
| Eisbär | "Polar bear" |
| Walross | "Walrus" |
4. In the Ocean (Aquatic / Marine Animals)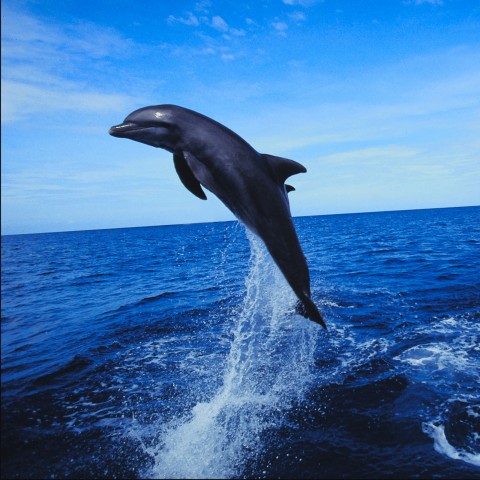 Germany is mostly landlocked, but it does border two large bodies of water up north:
the North Sea (Nordsee) to the West 

This is Europe's most significant shipping lane and a major fishing source for Western Europe.

the Baltic Sea to the East
There are also a variety of lakes (such as Lake Constance [Bodensee] and Chiemsee) that are home to beautiful marine animals and fish.
Here's a list of 12 aquatic animals in German and English to get you started:
| | |
| --- | --- |
| Fisch | "Fish" |
| Hai | "Shark" |
| Delfin | "Dolphin" |
| Wal | "Whale" |
| Seelöwe | "Sealion" |
| Qualle | "Jellyfish" |
| Tintenfisch | "Octopus" |
| Seepferdchen | "Seahorse" |
| Seeigel | "Urchin" |
| Seestern | "Starfish" |
| Muschel | "Mussel" |
| Seegurke | "Sea cucumber" |
5. Bugs and Insects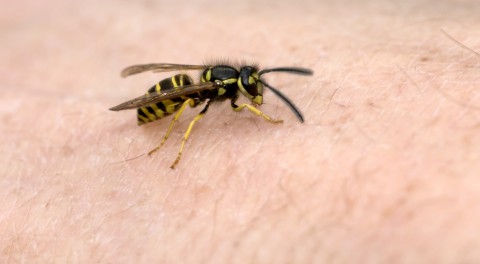 Over the last 30 years, more than 75% of total flying insect mass has disappeared from German skies. These numbers are not unheard of in other countries, and they should sound an alarm to us humans that we ought to become more environmentally aware.
While it does not help the environment, less bugs and insects in the sky does mean less trouble to deal with. This would guarantee better sleep than what you would get in, say, Indonesia or another tropical country—especially if you like to camp or keep the windows open at night.
With that being said, there are several situations where knowing some German vocabulary to describe bugs and insects could come in handy. That's why we've compiled this list of 12 bugs and insects in German along with their English translations:
| | |
| --- | --- |
| Biene | "Bee" |
| Wespe | "Wasp" |
| Moskito | "Mosquito" |
| Fliege | "Fly" |
| Spinne | "Spider" |
| Heuschrecke | "Grasshopper" |
| Kakerlake | "Cockroach" |
| Schmetterling | "Butterfly" |
| Ameise | "Ant" |
| Motte | "Moth" |
| Schnecke | "Snail" |
| Nacktschnecke | "Slug" |
You can also hear and practice the pronunciation of different bugs and insects on our website! 
6. Birds
Birds are arguably some of the most beautiful animals. They come in a rich variety of body types and colors, and there are endless species to enjoy. 
Like with pets, Germany is a very nice country for birds. It is home to several bird protection organizations, and there is continuous collaboration with the European Union for the same purposes.
| | |
| --- | --- |
| Möwe | "Seagull" |
| Krähe | "Crow" |
| Adler | "Eagle" |
| Taube | "Dove" |
| Eule | "Owl" |
| Elster | "Magpie" |
| Spatz | "Sparrow" |
| Pfau | "Peacock" |
7. Reptiles & Amphibians
Reptiles are always an interesting topic to talk about, especially when we're talking about the more dangerous species (think black mambas!). 
Germany may not be well-known for its reptiles and amphibians, as Australia and Southeast Asian countries would definitely beat it in this department. But in reality, the country is large and diverse enough to host a good variety of species. For example, you can spot wall lizards in Stuttgart, European pond turtles in Geisenheim, and sand lizards in Dotzheim.
Below is a short list of reptiles and amphibians in German for you to review: 
| | |
| --- | --- |
| Frosch | "Frog" |
| Kröte | "Toad" |
| Krokodil | "Crocodile" |
| Eidechse | "Lizard" |
| Schildkröte | "Turtle" |
| Meeresschildkröte | "Sea turtle" |
| Schlange | "Snake" |
8. Animal Body Parts
Detail is important, and a good animal description should never lack it. 
We've compiled a list of animal body parts to help you describe your favorite animals:
| | |
| --- | --- |
| Schwanz | "Tail" |
| Haar | "Hair" |
| Pelz | "Fur" |
| Zahn | "Tooth" |
| Fangzahn | "Fang" |
| Klaue | "Claw" |
| Horn | "Horn" |
| Huf | "Hoof" |
| Feder | "Feather" |
| Flügel | "Wing" |
| Schnabel | "Beak" |
| Mund | "Mouth" |
| Flosse | "Fin" |
| Tentakel | "Tentacle" |
| Mähne | "Mane" |
| Kofferraum | "Trunk" |
| Stoßzahn | "Tusk" |
| Fühler | "Antenna" |
| Bein | "Leg" |
| Schuppe | "Scale" |
| Kieme | "Gill" |
9. Animal-Related Idioms and Slang Expressions
Now that you've acquired a good bit of German animal vocabulary, you may enjoy finding creative ways to put these words to use. Here are several idioms and slang expressions in German that mention animals: 
Da wird ja der Hund in der Pfanne verrückt.
"The dog in the pan is going crazy."
That's enough to drive you round the bend!
Jemanden einen Bären aufbinden.
"To untie someone a bear."
To lead someone up the garden path.
Ein blindes Huhn findet auch ein Korn.
"A blind chicken happens to find corn too."
A blind hen happened to find a grain.
Die Katze im Sack kaufen.
"To buy a cat in a bag."
To buy a pig in a poke.
Mit dir habe ich noch ein Hühnchen zu rupfen.
"I still have a chicken to pick with you."
I still have an axe to grind with you.
Du benimmst dich wie ein Elefant im Porzellanladen.
"You act like an elephant in a porcelain shop."
Like a bull in a china shop.
Das geht auf keine Kuhhaut.
"It doesn't fit on a cow's skin."
It beggars description.
Mein Name ist Hase, ich weiß von nichts.
"My name is Hare, I know nothing."
I have no clue. / I have nothing to do with that.
Da steppt der Bär.
"There the bear steps."
The mood is great there.
Du hast doch 'nen Vogel.
"You have a bird."
You are insane.
Alles für die Katz.
"Everything for the cat."
It was all a waste of time.
Want to spice up your German a little more? Then head over to our vocabulary list Essential Idioms That Will Make You Sound Like a Native Speaker and our lesson Some of the Most Common Slang Expressions in Germany. 
10. Conclusion
There you have it. You have now learned tons of information about wildlife in Germany, and you're ready to hold a conversation about its most ferocious and beautiful animals. To practice, let us know the name of your favorite animal in German! 
Feel like you want even more practice? Are you struggling to create your own sentences and hold comfortable conversations in German?
An efficient learning resource might be what you're looking for.
That's where GermanPod101 comes in. 
With thousands of audio, video, and text lessons, GermanPod101 is a comprehensive resource that learners of all levels (beginner, intermediate, or advanced) can rely on. 
What makes GermanPod101 effective is the integrations that make our program work. Lessons come with cheat sheets and transcripts, and you can use tools for line-by-line breakdowns, pronunciation comparison, online flashcards, and even more. With our MyTeacher service, you can also study 1-on-1 with a native-speaking German language expert. 
Don't just take my word for it. Go to GermanPod101.com and try it all for yourself.
Signup is free and straightforward, and no credit card is required.
Viel Spaß beim Lernen!
Happy learning!
August 26, 2021
"If you talk to a man in a language he understands, that goes to his head. If you talk to him in his own language, that goes to his heart."
Makes sense, right?
When dating a German, it's easy to get comfortable speaking to your partner in only English, especially as Germany classifies as one of the best non-native English-speaking countries.
While this can help you keep a good line of communication, it can easily start to feel a little superficial for your German-speaking partner. From time to time, your relationship could benefit from expressing your love in German, their mother tongue.
Speaking your partner's native language will go right to their heart, and that will make it easier for you to build a connection with them in the long term…especially if that's the language you flirt in. 😉
Convinced yet? Here are some German love phrases to get you started.
Table of Contents
1. Confess Your Affection: Pick-Up Lines and More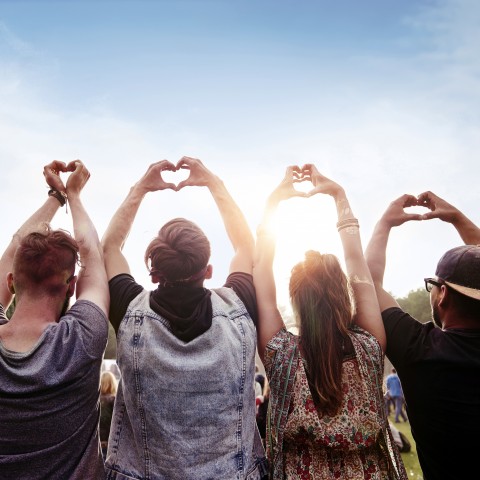 All great things take time. But guess what? They probably won't be handed to you on a silver platter, no matter how long you wait. Your best bet is to get out there and take chances. This especially applies to building (romantic) relationships. Below is a list of German love phrases to help you get your foot in the door. 
You are pretty.
Du bist hübsch.
This is a phrase I've always stumbled upon while scrolling through friendly comments on social media pictures. Want to let someone know they're easy on your eyes? No word is better than hübsch.
You are attractive.
Du bist attraktiv.
If you're looking for an easy way in, this is a simple one to remember due to its similarity to the English equivalent. 
Do you want to go out with me?
Willst du mit mir ausgehen? 
If you're willing to go out on a date, this sentence is your best bet to get the other person onboard. 
Do you want to be my girlfriend / boyfriend?
Willst du mit mir gehen?
This phrase literally means, "Do you want to walk with me?" but it's the perfect choice if you're not sure whether you've achieved official relationship status with your crush.
Thank you for the great evening.
Danke für den tollen Abend. 
After a great date night, there's no better way to end the evening than by expressing your gratitude towards your date. 
It was wonderful seeing you. 
Es war schön dich zu sehen.
This works perfectly for a short date, like a walk after work or after leaving a group of friends.
You mean so much to me. 
Du bedeutest mir so viel.
As you progress through the dating process and notice that there's attraction between you two, feel free to throw in a romantic line like this one. It should be enough to get your date excited about getting to know you even more!
2. Fall in Deeper: "I Love You," and More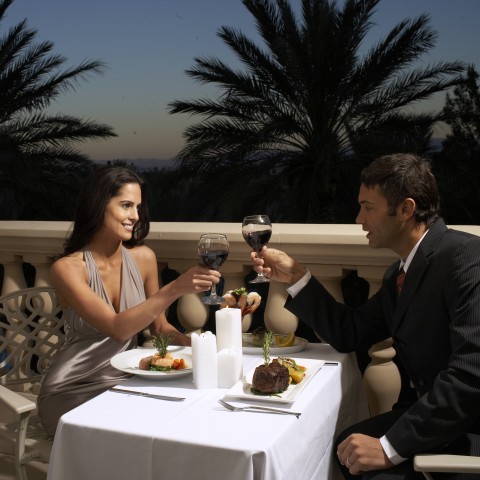 If you're dating a German, it may take quite some time to get to this stage, as Germans like to take their time to get to know their date. Your safest bet is to express your deeper emotions only after you've gotten enough signs from your partner that your relationship is more exclusive. Here are six romantic German phrases to take your relationship from "casual date" to "lover."
I love you.
Ich liebe dich.
If you're a German learner, you've probably already stumbled upon this sentence in a beginner's textbook or on a language app. This one is enough to break the ice and announce to your partner that you're ready to take things up a notch.
I love you.
Ich hab(e) dich lieb.
Unleashing your emotions to a beloved family member or close friend? Enters Ich hab' dich lieb. Culturally, this expression is perceived as ambiguous when compared to Ich liebe dich. 
It's worth noting that while this phrase could also be used with your date, it may be considered friendly rather than romantic.
I can't stop thinking about you. 
Ich kann nicht aufhören an dich zu denken.
This is the perfect sentence to drop a hint to your partner, especially if you're worried about having your initiative rejected. If your partner reciprocates or shows a positive sign after hearing this, you're probably on the right track to something big!
I miss you.
Ich vermisse dich.
Thinking about another date? Use this expression to see if your partner wants to meet again. Who knows? Maybe your next date will be the stepping stone to a more serious relationship.
You are my only love.
Du bist meine einzige Liebe.
Germans love to be direct, and what better way to match that than to just drop your feelings on the table and let your date know how special they are to you?
You give meaning to my life. 
Du gibst meinem Leben einen Sinn.
If you've happened to gain more perspective on life after meeting your date, chances are they're contributing well to that. Let them know!
3. Take it One Step Further: "Will You Marry Me?" and More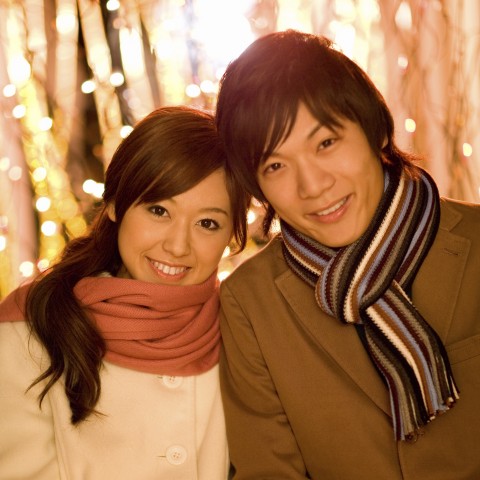 Now that your relationship has had time to evolve and you've spent many months or years together, why not just tie the knot already? Below are six love phrases in German to help you do just that.
Note: If you're a man, it's customary to ask a woman's father for permission before you move forward with your marriage.
I want you to be my husband / wife.
Ich will, dass du mein/e Mann / Frau wirst.
This expression is perfect for making a short and sweet proposal to your partner. Be sure you have that ring in hand's reach before saying this!
I want to spend the rest of my life with you.
Ich möchte den Rest meines Lebens mit dir verbringen.
Considering you're about to marry a German, you probably already understand the power of directness in German culture. No better way to propose than to make it plain and clear who you want to spend the rest of your life with.
Will you marry me? 
Willst du mich heiraten?
If you're planning to get down on one knee, this should be your go-to sentence.
I want to have grandchildren with you.
Ich möchte mit dir Enkelkinder haben.
You're planning children with your partner? Why not take it a step further and show him/her that he or she is the one you'll be with forever? 
I want to be with you forever. 
Ich will immer bei dir sein.
You are my one and only.
Du bist mein Ein und Alles.
We are destined for each other.
Wir sind füreinander bestimmt.
The last three expressions are ideal for use by women to hint at their enduring interest, as men are the party expected to propose.
4. Endearment Terms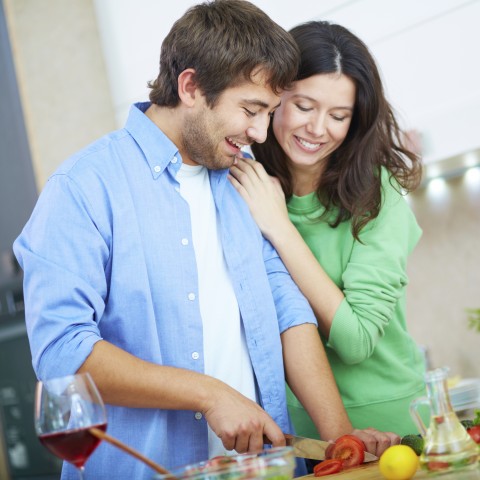 How better to keep that spark of romance (and fun!) alive than with an adorable pet name or two? Here are some cute and romantic German endearment terms you can consider: 
Darling 
Liebling
Not only can you use this term for your other half, but you can also use it for your children (or even pets)!
Sweetheart 
Schatz
This is the most common German endearment term. Its literal meaning is "treasure" and it's popular among lovers of all ages. Other variations, like Schätzchen (diminutive of Schatz), could be used as well.
Little bear 
Bärchen
This is one of many German terms of endearment derived from animal names. It's perfect for a cuddling session and can be used for both men and women. It's the diminutive form of Bär (bear).
Bunny 
Hase
Another animal term, this one could be alternated with a diminutive as well: Häschen.
Mouse bear
Mausebär
This is a funny mix of "bear" and "mouse"—two animal names you could even use separately to flirt with your partner. 
Pearl 
Perle
Because this term isn't popular throughout all of Germany, you'll probably be the first one to ever use it with your partner.
5. Must-Know Love Quotes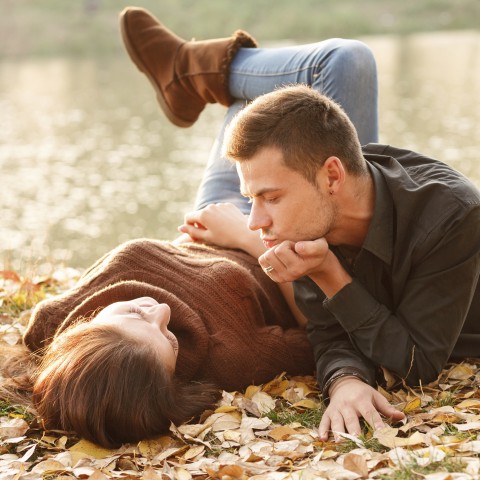 Love conquers all.
Liebe überwindet alles.
Love is blind.
Liebe ist blind.
Jealousy is a passion that passionately seeks what causes pain. 
Eifersucht ist eine Leidenschaft, die mit Eifer sucht, was Leiden schafft.
When you sow love, joy will grow. 
Wo man Liebe sät, da wächst Freude.
Opposites attract.
Gegensätze ziehen sich an.
Couples comprised of people from different backgrounds enjoy using this quote. It signifies how one can lead a successful relationship despite differences in culture, language, habits, and more. It's great to use if you want to make sense of your relationship.
The way to a man's heart is through his stomach.
Liebe geht durch den Magen.
Craving some homemade Bratwurst with a side of Sauerbraten? Your partner will probably not take long to get that (and more) for you after you use this quote.
6. Conclusion
Now that you're all set with all sorts of German love phrases to impress your date, you can consider taking your German to the next level. Which phrase was your favorite? Are you ready to try it out on the love of your life?
It would sound even more native-like if you could use your chosen endearment terms and love phrases along with some prepositions. 
It would be even more impressive if you could create your own sentences, which you can easily do by learning some basic German verbs and just six personal pronouns to incorporate into your sentences.
Wondering where you can find the best resource to learn that and more about the German language? 
Enter GermanPod101.
With thousands of methodical audio, video, and text lessons, you'll be able to interact in many real-life German conversations, whether it's with your partner or with people in general.
All of this content is taught via a proven system using top learning techniques. You'll have slowed-down audio to ease your understanding of new words, line-by-line breakdowns of texts, and voice recording tools to master pronunciation.
All of this and more comes with a free sign-up. No catch, no credit card.
Sign up now and get ready to impress your German date!