The First Sunday of Advent in Germany marks the beginning of a four-week-long celebration before Christmas. During Advent, Christians await the Second Coming of Christ with additional fervor and hope, and Germany's more secular population enjoys the festivities and traditions leading up to Christmas.
In this article, you'll learn about modern Advent traditions in Germany, what date it falls on, a little bit about the holiday's origins, and other facts about Advent in Germany.
At GermanPod101.com, we aim to make every aspect of your language-learning journey both fun and informative! What better way than by showing you one of the warmest and most significant holidays of the year?
1. What is Advent in Germany?
The word Advent means "arrival," and during Advent, Christians prepare for the arrival of Jesus Christ. Once Advent begins, it also means that Christmas is near—much to the excitement of many children, who look forward to the holiday coziness and gifts that await them! During each Advent Sunday, Germany has many fun traditions that we'll go over later.
While the origins of Advent Sunday aren't well-known, some believe that it has roots in an ancient monk tradition of fasting from the beginning of December until Christmas. The actual Advent holiday is thought to have picked up around the fifth and sixth centuries, usually as a fast that people could choose to participate in to show devotion.
In 1963, Advent became the holiday that many people know it as today. The Second Vatican Council decided that the holiday would, from then on, focus much more on Jesus Christ's return.
2. When is Advent?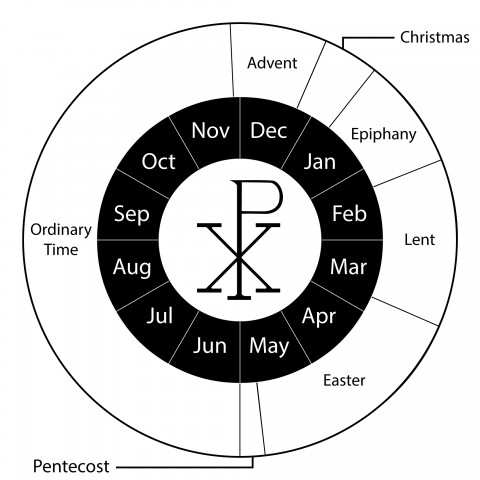 The First Sunday of Advent falls on a different date each year, based on the church calendar (also called the liturgical year). It's always four weeks before Christmas. For your convenience, here's a list of this holiday's date for the next ten years.
2019: December 1
2020: November 29
2021: November 28
2022: November 27
2023: December 3
2024: December 1
2025: November 30
2026: November 29
2027: November 28
2028: December 3
3. How Do Germans Celebrate Advent?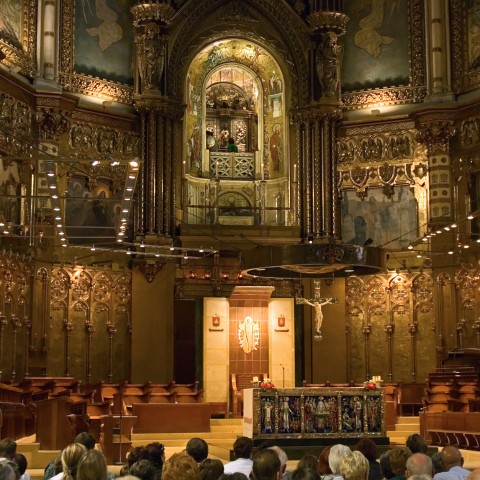 If you happen to be in Germany during Advent, you're going to find many homes and buildings lavishly decorated for the holiday. Common decorations include strung Christmas lights, stars, and Advent wreaths. The Advent wreath in Germany is decorated with four candles, which are usually red or white. On each Advent Sunday, another candle is lit.
In addition to making Christmas decorations, people send Christmas wishes, write wish lists, buy Christmas gifts, and bake Christmas cookies during the time of Advent. Among other cookies, butter cookies, vanilla cookies, shortbread biscuits, macaroons, and cinnamon stars are particularly popular. Imagine all the warm smells of baking, and all the cookie-sampling that surely goes on!
One of the most common Advent traditions in Germany is that of parents gifting Advent calendars to their children. From December 1 to 24, one of the twenty-four doors of the Advent calendar is opened each day. In the Advent calendar in Germany, there's usually a small chocolate behind these "little doors" to shorten the waiting time until Christmas Eve.
Another pre-Christmas tradition is exchanging gifts. This usually takes place during the Christmas holidays with friends or colleagues. Gifts are exchanged as follows: The wrapped presents of all recipients are gathered so that by the end, everyone gets to pick a different gift.
In many cities, the decorated Christmas trees and hanging strings of lights reflect a festive atmosphere. Christmas markets attract numerous visitors and are a favorite rendezvous point during Advent. At the stalls, Christmas items, cookies, warm drinks, and light meals are offered. As for other Advent foods in Germany, there's the smell of roasted almonds, hot chestnuts, and mulled wine (called Glühwein in German) everywhere, and sometimes you can hear the sounds of Christmas music.
4. Advent Sunday Songs
There are also a lot of songs and poems for Advent. Can you fill in the blank in this German Advent verse?
"Advent, Advent, a candle burns, first one, then two, then three, then four; then the ____ is standing in front of the door."
The missing word in this famous children's verse is Christkind or "Christ Child."
5. Must-Know Vocabulary for Advent Sunday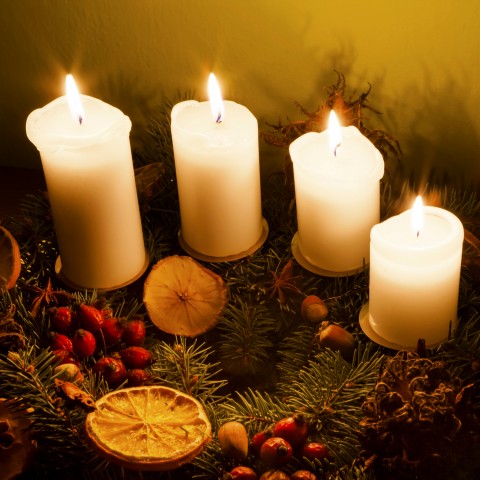 Here's some German vocabulary to memorize before the First Sunday of Advent!
Gottesdienst — Church service
Christliche Adventszeit — Advent season
Katholisch — Catholic
Evangelisch — Evangelical
Lutherische Liturgie — Liturgy
Jesu in Jerusalem — Jesus in Jerusalem
Wiederkunft Christi — The return of Christ
Johannes der Täufer — John the Baptist
Maria — Mary
Kirchenjahr — Church year
You can hear each of these words pronounced and read them alongside relevant images on our German Advent Sunday vocabulary list!
Final Thoughts
The First Sunday of Advent is a day that many Germans await all year long! There is something special about those end-of-the-year holidays, isn't there?
What are your thoughts on the traditions of Advent in Germany? Does your country have similar Advent celebrations, or are they very different? We look forward to hearing from you!
Learning about a country's culture may be the most fascinating and enriching aspects of trying to master its language. If you would like more cultural information on Germany, or perhaps some more vocabulary to practice throughout this autumn and winter, you may find the following pages on GermanPod101.com useful:
Learning German doesn't have to be overwhelming or stuffy. At GermanPod101, we do everything possible to make your learning experience both fun and effective! If you're serious about mastering the language, get started right by creating your free lifetime account today!
Happy Advent!