Have you ever visited a city filled with an eclectic mix of cultures, history, and wonderful sights, as well as a vibrant creative life? If the answer is no, then you should start thinking about a trip to the German capital. Even John F. Kennedy, the U.S. President, loved it! 
"All free men, wherever they may live, are citizens of Berlin. And therefore, as a free man, I take pride in the words, 'Ich bin ein Berliner!' [I am a Berliner!]"
But really, why should you visit Berlin? Imagine a hub of history, art, music, and graffiti that attracts millions of tourists annually. Sounds pretty good, right? Follow our Berlin travel guide and rest assured you'll have an incredible experience. 
We'll keep it short by describing only the top ten places to visit in Berlin (but don't worry, you'll get a bit of everything).
Table of Contents
When to Visit Berlin
In addition to choosing the best sites to visit in Berlin, it's essential to pick the right season! 
Winters can be really chilly (quite literally freezing!), so the best time to visit Berlin is from May to October. But if freezing temperatures don't scare you, you can also visit Berlin in winter to experience the lovely capital city during Christmas!
Try to travel during May or June if you want long summer days and more clement weather. September and October will be ideal if you prefer less-crowded museums and streets! 
What to Visit in Berlin
One last thing before we head to our Berlin travel guide: 
Before starting your Berlin adventures (with your shiny-new German vocab), keep in mind that the city is huge! 
It's five times bigger than Paris (even though it has only a quarter of the population) and, since it was divided for so long, there are a lot of mini-centers scattered throughout the city… It can take up to thirty or forty-five minutes to travel from place to place, so plan your days well!
Without further ado, here's our list of the best places to visit in Berlin.
1. Museum Island
The Museum Island (Museumsinsel in German) is a complex located in the historical middle of the city—the Mitte—on the northern part of the Spree Island. As you can guess by its name, the island is home to multiple world-renowned museums, including the Pergamon Museum, Altes Museum, Neues Museum, Bode Museum, and the Alte Nationalgalerie. This makes it one of the most instructive and interesting places to visit in Berlin. 
If you like learning about history, archaeology, and art, you could spend a whole week wandering around this amazing complex of museums in Berlin, which is listed as a World Heritage Site by UNESCO.
The Mitte, even though it's very touristy (and not the most authentic location in Berlin) still offers a bit of everything. Once you're done checking out the museums, you can stop by one of the area's cafes or restaurants for a quick bite and caffeine boost, shop for souvenirs to take home, or check out the local clubs.
While there, you can also visit the Berliner Dom (Berlin Cathedral), which is located right next to the Altes Museum. Like so many other buildings in Berlin, a bomb destroyed it during WWII. However, its restoration started in 1975 and, even though it took a good while (it was only completed in 2002), the result is surely impressive! You can enjoy its façade, navigate its immense interior, or even climb up to the dome to marvel at the beautiful sights of central Berlin from above.
2. The Berlin Wall Memorial (Gedenkstatte Berliner Mauer)
You can't go to the German capital without paying a visit to the Berlin Wall…or at least what's left of it! The Berlin Wall divided the city in two for twenty-eight years until it was finally brought down in 1989. 
One of the most famous places to visit in Berlin, the Memorial at Bernauer Strasse is an open-air exhibition that chronicles the wall's history and displays an entire mile of the original wall. Here, you'll learn about how the wall divided the capital and affected its citizens.
3. East Side Gallery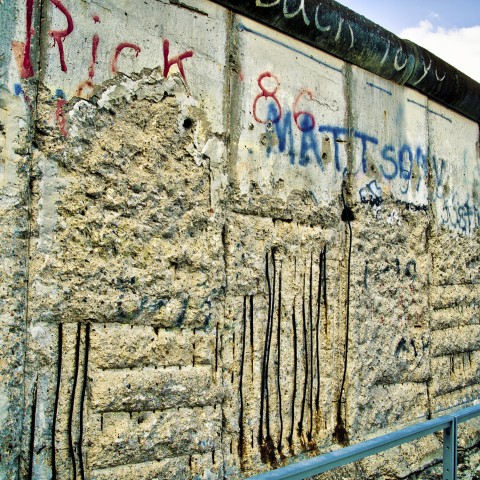 If the Berlin Wall Memorial wasn't enough, and you want to learn more about the history of this city and the wall that shaped the lives of its citizens for almost thirty years, I strongly suggest that you also visit the East Side Gallery. 
Here you'll find the longest remaining stretch of the Berlin wall…but it's not just a wall anymore! It has become one of the world's largest open-air galleries. 
Its colorful artworks, painted right on the wall by a huge range of international artists, are based on themes of freedom, anti-oppression, and political satire, bringing recent history to life. 
The gallery is located in an open public space and it's accessible at all times. Just behind the gallery, you'll find a small lawnfield with access to the Spree River, where you can take a rest after your exhausting day.  This area is definitely one of the best sites to visit in Berlin!
4. Brandenburg Gate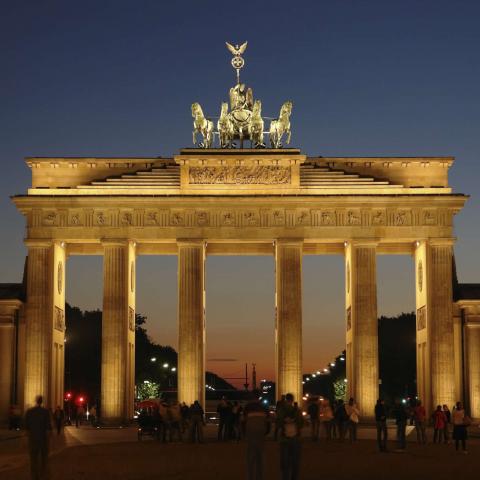 The Brandenburg Gate (Branderburger Tor) was once a gate into the city. Today, it's one of the top attractions in Berlin and a great emblem of peace. 
Designed in 1791, the Neoclassical gate stands 26 meters (about 85 feet) high and was inspired by the acropolis of Athens. The original sculpture was actually destroyed during World War II, and then replaced in 1969 by an exact replica made in West Germany. 
The Brandenburg Gate is one of the most important symbols of Berlin and it offers one of the best views of the city, by both day and night.
The Brandenburg Gate is located at the Pariser Platz (Paris Square), where you can find many embassies. Directly next to the Brandenburg Gate, you'll find the American and French embassies; go farther down the street, and you'll also come across Russian and British embassies. 
Also, fans of pop music can visit the Adlon Kempinski Hotel, located right in front of the Brandenburg Gate. This is where Michael Jackson once presented his youngest child to the public.
5. Unten Der Linden
This boulevard, the name of which literally translates as "under the Linden trees," is one of the main arteries and favorite avenues of Berlin. 
Brandenburg Gate is the perfect starting point to visit this avenue, which stretches for 1.5 km (just under a mile) to reach Schlossbrücke (Castle Bridge). Some of the city's most important buildings and landmarks are located in the area.
You can take a blissful walk along the boulevard, which will take you through Pariser Platz. You'll find the magnificent Neue Wache and the public square Bebelplatz, which is home to the Berlin State Opera, the Humboldt University of Berlin, and the Roman Catholic St. Hedwig's Cathedral. Next, you'll reach Schlossbrücke, a bridge that leads to Museum Island.
6. Mauerpark
If you're visiting Berlin over the weekend, Mauerpark is a destination you shouldn't miss. Every Sunday, Berlin's most famous Flohmarkt (flea market) takes place here, filled with antics, used clothes, hip brands, and food tracks offering food from all around the world! 
If you're lucky, you'll also experience an open-air karaoke at the amphitheatre located next to the flea market, where people gather to sing their favorite songs in front of dozens of people. If you're not interested in karaoke, you can also listen to professional musicians practicing and playing throughout the park.
It's a great place to go, even if you can't make it on Sunday. On sunny days, the park is usually full of people having picnics, spraying graffiti, or playing basketball in the designated areas.
One more thing we haven't mentioned yet: The park has a little slope which offers a beautiful view over Berlin's skyline. And—this is the best part—on top of the slopes, you'll find swings that literally allow you to swing above Berlin's roofs!
7. The Holocaust Memorial (Holocaust-Mahnmal)
The Memorial to the Murdered Jews of Europe is another place you must visit in Berlin. As you can tell by its name, it commemorates one of the saddest episodes of WWII. 
The memorial itself is an architectural gem that challenges the very notion of commemorative monuments. It's made up of 2,711 concrete slabs of various heights that, placed next to each other, create numerous passages for visitors to walk through. 
The information center is located underneath the monument, on the southeast side. Here, you can learn about the National Socialism movement and the extermination policies carried out between 1933 and 1945. You will also be able to read the Holocaust testimonies of numerous persecuted Jews and learn about their stories before, during, and after the torment.
8. Sachsenhausen Concentration Camp
If you feel like you want to learn more about the Holocaust at this point, and you want to get away from the city for a little while, this is a must-see location. It's located in Oranienburg and is accessible via a one-and-a-half hour train ride from the station Lichtenberg in the eastern part of Berlin.
Sachsenhausen (KZ Sachsenhausen) was one of the most prominent death camps in Nazi Germany. More than 200,000 prisoners were kept here from 1936 to 1945.
What's special about this place is that, three months after WWII ended, it became a Soviet Special Camp used to lock away Nazi prisoners and political prisoners who did not agree with the Soviet Union ideals. As you explore the facility, you'll surely feel a shiver go down your spine as you discover the atrocities committed by both parties over the years. It is surely an instructive and moving experience.
9. The Reichstag Building
This historic building is the seat of the German Parliament (German Bundestag). Established in 1894, it has a classical façade crowned by a large modern dome. As it's located on the border of East Berlin, the Reichstag was separated from the Brandenburg Gate by the Berlin Wall for nearly twenty-nine years. 
In 1990, it was restored by Norman Foster and quickly became one of the most iconic symbols of Berlin.
Today, the area around the Reichstag Building became a governmental district. One of the other more-prominent buildings that can be found in the area is the Kanzleramt (Chancellor Office), which faces the Reichstag Building.
10. Tiergarten
Last but not least, take some time to reflect on all you've seen and learned in Berlin, and take a deep breath in one of the most beautiful parks in the German capital.
Tiergarten (literally: animal garden) is the perfect spot to temporarily step into nature and get away from the bustling city. 
You can enjoy a picnic, lie in the sun (maybe even in the company of a squirrel, if you're lucky!), or get lost in walking meditation on one of its many pathways…
Survival German
Now that you have a better idea of where you want to visit on your trip to Berlin, it's time to answer a key question: Can you visit Berlin without speaking German?
While most people in Berlin will understand and speak some English, there are a lot of day-to-day interactions you'll need to face in order to make your itinerary happen. You never know when you'll need to use some German, so I'll leave you with some German survival phrases just in case! 
Good day!
Guten Tag! (gooh-ten tahk!)
Good evening!
Guten Abend! (gooh-ten ah-bent!)
Goodbye!
Auf Wiedersehen! (ouf vee-der-zey-en!)
Please. / You're welcome.
Bitte. (bi-te)
Thank you.
Danke. (dân-ke)
Excuse me.
Entschuldigung. (ênt-shool-dee-goong)
My name is…
Ich heiße… (iH hays-e…)
Pleased to meet you.
Freut mich. (froyt miH)
Conclusion
I hope this Berlin travel guide will make it easier for you to enjoy all that the vibrant and diverse city of Berlin has to offer. Which location on this list do you most want to visit, and why? 
Remember, if you want to feel like a real Berliner while you explore the most interesting places in the German capital, knowing a little German will surely help! Once you attain a strong level of spoken German, it'll be easy for you to talk with locals and make your adventure even more unforgettable.
You can achieve this through the language podcasts, videos with transcripts, word lists, and more that GermanPod101.com provides. Create your free lifetime account today to start learning German in the fastest, easiest, and most fun way possible.