We're sure that the name Oktoberfest rings a bell (or several).
During Oktoberfest, Germany enjoys a long celebration focused on great food, fun music, and of course, lots of beer! But did you know that for Oktoberfest, Munich, Germany even has events for the kids?
In this article, you'll learn about the traditions of Oktoberfest Munich observes each year. As one of Germany's most well-known and beloved holidays, knowing the celebrations behind it are essential in understanding German culture. This, in turn, will help you get a better grasp of the language.
At GermanPod101.com, we hope to make every aspect of your learning journey both fun and informative. So drink up, and let's get started…
1. What is Oktoberfest?
Introduced in 1810 by Maximilian I Joseph of Bavaria, the Oktoberfest, or Wiesn, attracted around seven-million people from all over the world in 2011. This all-day event is held annually in September and October at Theresienwiese in Munich, and lasts between sixteen and eighteen days.
2. When is Oktoberfest in Germany?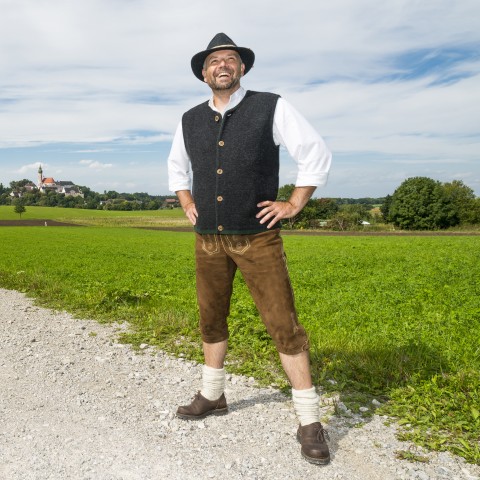 The date of Oktoberfest varies slightly from year to year, but always begins in September and ends the first Sunday in October. For your convenience, here's a list of Oktoberfest's start and end dates for the next ten years.
2019: September 21 to October 6
2020: September 19 to October 4
2021: September 18 to October 3
2022: September 17 to October 3
2023: September 16 to October 3
2024: September 21 to October 6
2025: September 20 to October 5
2026: September 19 to October 4
2027: September 18 to October 3
2028: September 16 to October 3
3. Traditions & Celebrations for Oktoberfest
At the festival-opening Wiesn-Einzug parade, which runs through the center of Munich, the festival innkeepers participate with their decorated carriages, musical bands, and showmen. The official opening of the festival is followed not only by the home crowd, but also by viewers from around the world on TV or online. With the slogan O'zapft is and the tapping of the first keg by the mayor of Munich, the festival begins.
Traditional Oktoberfest costumes include the dirndl dress for women and leather trousers for men. People usually visit the Oktoberfest with their friends, work colleagues, or partners. People eat and drink in the tents, and sway and dance while pop music and traditional Bavarian brass music play in the background. The larger of the fourteen tents, such as the Hofbräu festival tent, can accommodate up to 12,000 people.
Many families visit the Oktoberfest in the afternoon with their children. A carousel, Ferris wheel, and other rides are there for their enjoyment. Bavarian specialties such as chicken, pretzels, Bavarian cheese, and pork and veal sausages are very popular. The popularity of the festival is also evident from the fact that some of the cities, like Mainz and Konstanz, organize their own Oktoberfests.
Munich breweries brew a special beer for Oktoberfest that contains more of the original wort and higher alcohol content of around six or seven percent, which is known as Märzen.
4. How Much Beer?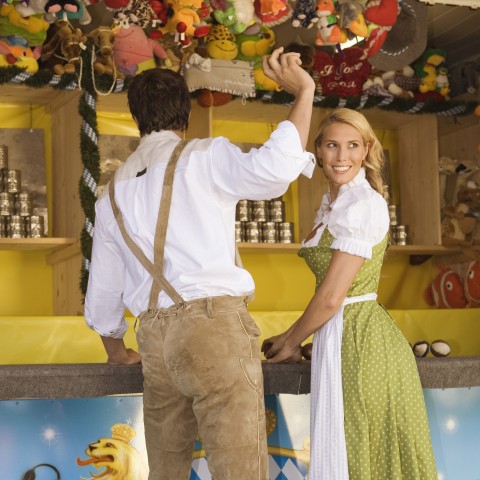 On average, how many liters of beer do Germans consume per capita annually?
Each year, Germans consume an average of 125 liters of beer per capita in Germany. Cheers!
5. Essential Oktoberfest Vocabulary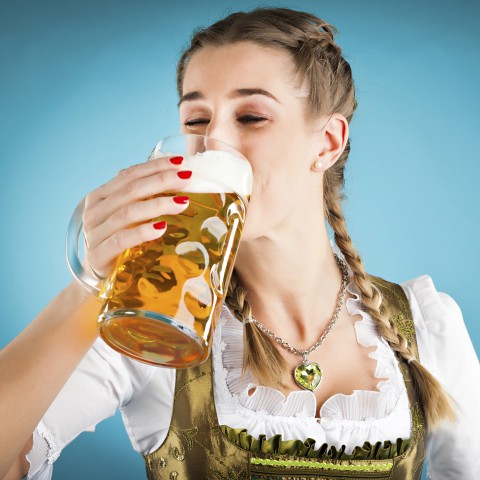 Here's some vocabulary you need to know for Oktoberfest in Germany!
Oktoberfest — Oktoberfest
Dirndl — Dirndl
Oans, zwoa, gsuffa! — One, Two, Drink up!
Obatzda — Obatzda
Hendl — Hendl
Zur Wiesn gehen — Go to the Oktoberfest
Ein Prosit der Gemütlichkeit! — Cheers, here's to "cosiness!"
Eine Maß Bier — One liter of beer
Lederhosen — Lederhosen
Volksfest — Folk festival
Blaskapelle — Brass band
To hear each of these vocabulary words pronounced, check out our Oktoberfest vocabulary list!
How GermanPod101 Can Help You Master German!
We hope you enjoyed learning about Oktoberfest with us, and that you learned some new facts. But most importantly, we hope you're ready to partake in celebrations. 😉
Have you ever experienced an Oktoberfest celebration in Germany, or do you plan to? Does your country have similar celebrations? Let us know in the comments!
To continue learning about German culture and the language, explore GermanPod101.com. We offer an array of fun and effective learning tools for every learner, at every level:
If you're interested in a one-on-one and personalized learning approach, be sure to upgrade to Premium Plus. Doing so will give you access to your own German teacher who will help you develop a learning plan tailored to your needs and goals. Yes, really!
Learning German isn't an easy feat, but know that your hard work and perseverance will pay off! And GermanPod101 will be here with you each step of the way to German mastery, with effective tools and constant support.
Until next time, we wish you a Happy Oktoberfest! 🙂